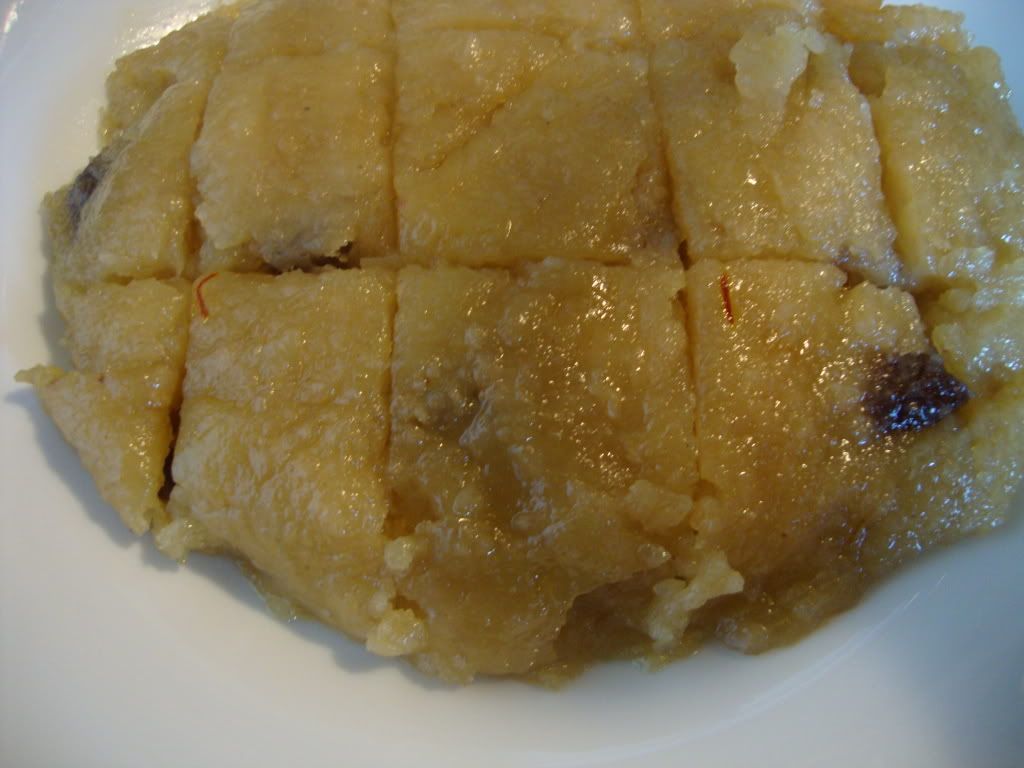 The first time I learned this recipe from my paternal grandmom when I was studying. After awhile I was so caught up with my degree and job that I realised I had almost forgotten it. This also happens to be one of the few sweets I would even touch before the pregnancy changed me to more sweet friendly person (I hear you, that is not going to help shed the baby weight!!). My maternal grandmother does such a great job of this that my mom never even had an opportunity to do this. It was a bit funny when I asked my mom to make this yummy halwa during my pregnancy. She had made so much that we were running out of sugar to finish it. It turned out great at the end and we did finish it off. I usually buy the medium ground wheat flour and that is not ideal for halwa. This time I bought a small pack of fine atta and tried this last Friday as part of my 'neivedyam' (offering) to God. My grandmother usually makes it from scratch i.e. with wheat grains but as they are so hard to come by in this part of the world, I stuck to wheat atta. I did a very small batch but you could easily make more using these proportions...
¼ cup atta (I took a little over ¼ cup)
1/2 cup milk
¼ cup sugar (if you have a sweet tooth, you can use more but the minimum is 1:1 atta and sugar)
5-6 tablespoons ghee (clarified butter)
Handful of raisins (optional) and cashewnuts
I did not put cashewnuts in my halwa this time as I was going to have my baby give it a try and he has not had nuts so far.
To start, mix the atta and milk so that you have a batter like consistency. Leave this for 30 minutes.
In a thick bottomed dish or wok, heat 1 tablespoon ghee, add the raisins and let them puff. Roast cashew nuts until golden brown in the same ghee.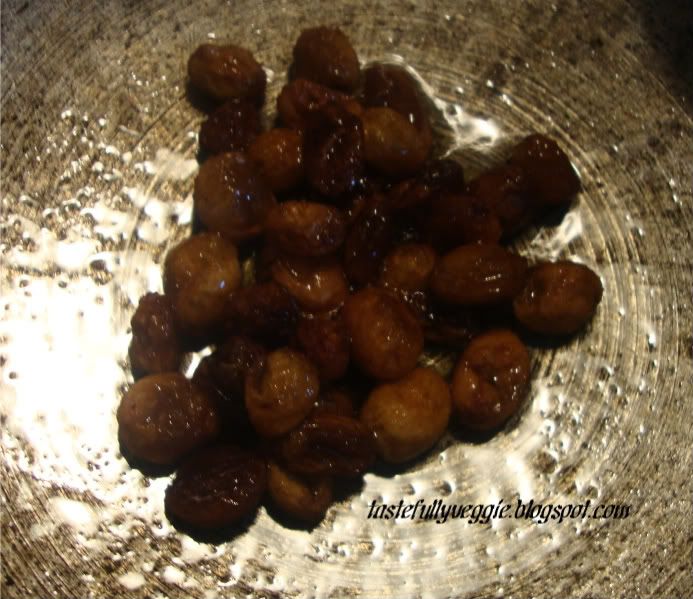 Add another tablespoon of ghee and after it melts, add the atta milk mixture and keep stirring. If you find it too thick dilute with not more than ¼ cup water and keep the flame low.
Add small amount of ghee frequently and couple of minutes after you added the atta, add the sugar and keep stirring.
Keep adding ghee little by little and stir. If desired you can add a few strands of saffron or food colour (use manufacturer instruction). Once the sugar has dissolved and the atta starts coming together, increase the flame to medium high.
Keep stirring until the halwa comes together in the centre of the wok. Add the cashews and raisins and give a quick stir.
Put the halwa on plate rubbed with ghee and cut into pieces. Wheat halwa ready !