Baked Eggplant Patties
Eggplant is also known as aubergines or brinjals. It is my all time favourite vegetable. Particularly, I love the dish my grandmother makes out of baby brinjals and a mix of spices. One veggie I was desperately looking for when I moved to UK was this. Unfortunately I could not find the varieties we could get in India but could only find the Spanish Aubergines. As the vegetable is so dear to me, I still wanted to give it a shot. I must admit that the simple dish turned out so bad that I made up my mind not to go for it again. But as I grew as a cook, learning bits and pieces here and there, I did manage to turn it to yummy dishes. As a matter of fact I find this variety quite convenient as you can just cut up one eggplant and that is enough for my husband and myself. Saves cutting and washing time.
This recipe particularly, is probably not entirely Indian but has the touch of Indian style of making it. I took inspiration from a recipe I saw on another website. I had added it to my favourites but lost it when my computer crashed. I also drew inspiration from one of the recipes I saw on Come Dine with Me. Here is my version of nice crispy eggplant patties.
1 big eggplant
3 cloves garlic
1 teaspoon chilli flakes
4-5 tablespoons powdered rusk or crumble dressing or bread crumbs
1/4 teaspoon turmeric powder
½ teaspoon coriander powder (dhania)
½ teaspoon jeera powder(cumin)
Salt
3-4 teaspoons olive oil
You will need a conventional oven, a baking tray lined with baking foil and also a plate on which you can spread cut eggplants.
Cut eggplant into rings or wheels, about half an inch thick. Sprinkle some salt on it. Put these on paper kitchen towel placed on a plate and cover with paper towels. Some people do this to remove bitterness from eggplant but I did it so that the moisture will help the crumbs stick to it. Leave this for about 30 minutes.
Finely chop garlic and mix with chilli flakes and olive oil. Keep aside for a while so the flavours infuse.
Preheat the oven to 200degC. Line a baking tray with baking foil and lightly grease the same with oil.
Mix the crumbs with dhania powder, jeera powder, turmeric powder and salt. Take each eggplant rings and dip in this mixture and coat both sides with spiced crumbs evenly.
Place in the baking tray and drizzle the prepared olive oil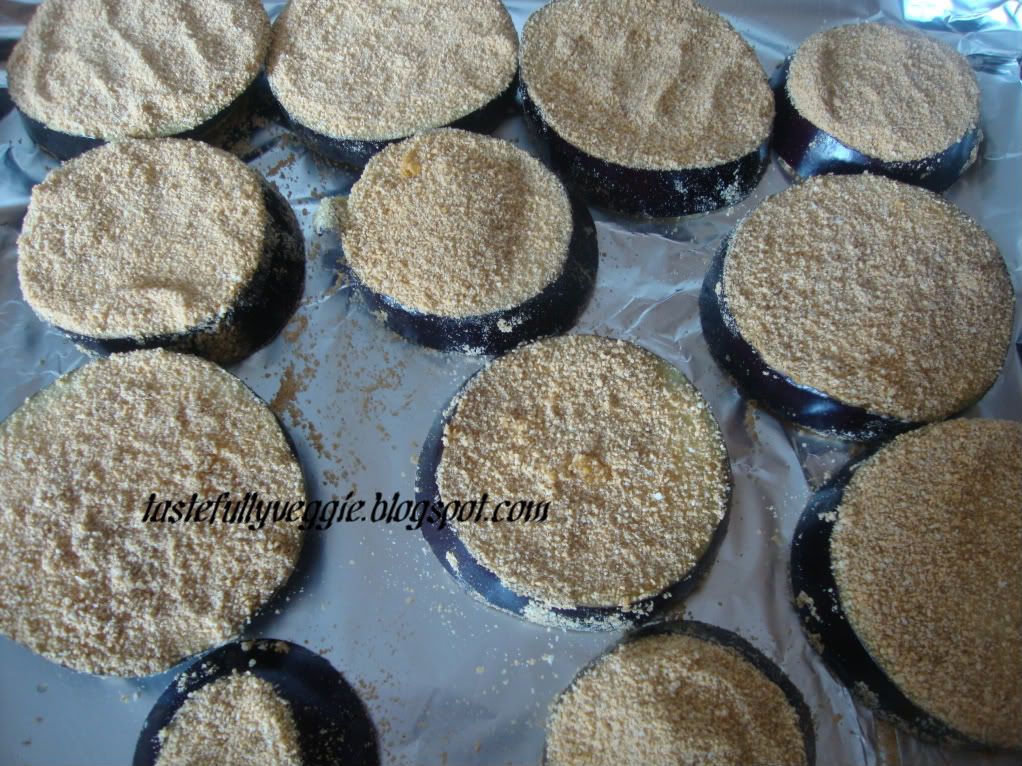 Bake for 15 minutes and gently flip the eggplant rings to cook the other side. Drizzle some olive oil again
Bake for further 15 minutes.
Drizzle rest of the prepared olive oil and serve with tomato ketchup or raita of your choice.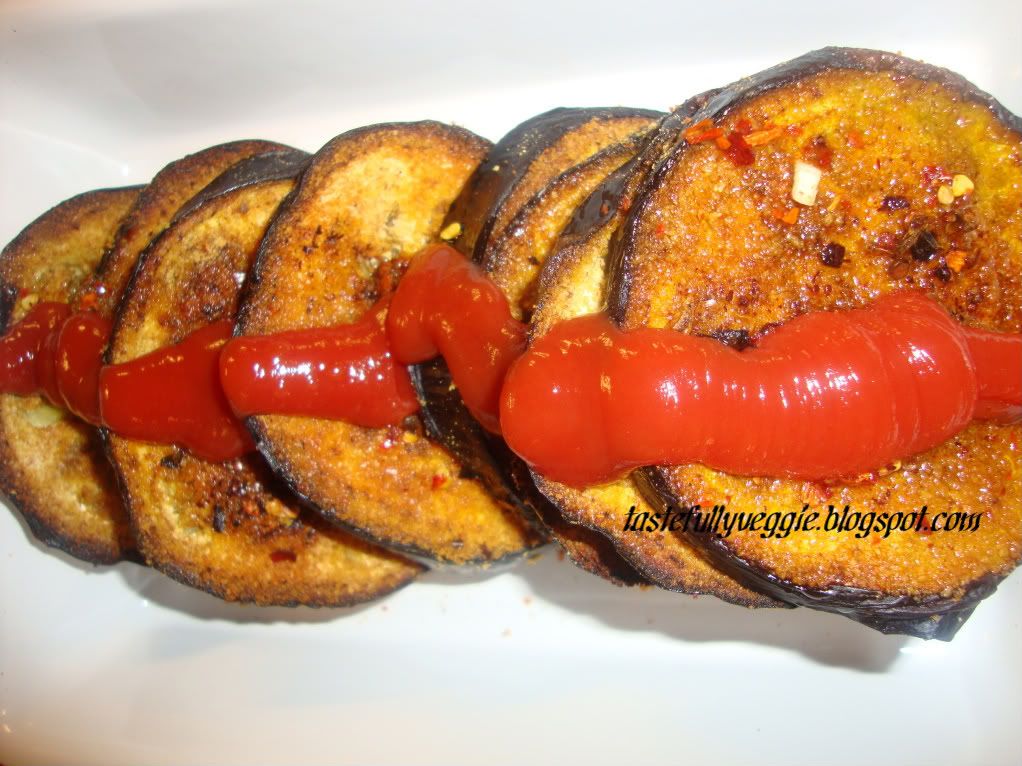 If the patties are not crisp enough, bake for further few minutes.
This is a great starter and even a snack. Cut down on the chillies and it will even make a great finger food for your child. This is a low fat and nutritious snack.